When learning programming, not little people wonder actually laptop like what the heck that is nice to wear ? Especially with dozens of brands and hundreds of types of laptops available in computer stores that make us even more confused in choosing .
Answers on questions that actually simple course . All laptops can be used to perform programming. Eeeit , there is the but . Although all laptop can be used for programming, but the more appropriate type of laptop that is used with the kind progamming who do , it will be more productive as well a programmer at work . Besides that , there is the type of programming that only can be done on a laptop particular because of restrictions are given .
In general , there are some things that we should pay attention to in choosing a laptop for programming, namely :
Portability
Screen resolution
CPU speed
Amount of memory (RAM)
The type and size of the hard drive
Keyboard
Battery
Operating System
Graphic Card
Let 's discuss one by one .
1. Portability
Portability is the main reason why programmers use laptops. Laptop allows us to work when alone and where only with or without electricity ( but has a time limited ).
If the reader is a kind of programmers who would often move , then the laptop with the size of the screen 13 or 14 inches is kind of laptops are great for having sizes are relatively much smaller . However , if it is not too often move and need a specification that is high , choose a laptop with a screen 15 inches . Usually ( not always ) laptop with a screen 15 inches has a specification that is higher than the laptop sailed 13 or 14 inches .
2. Screen Resolution
Although it looks trivial , the density of the screen can have a role that is very important for a programmer. It is because most large time we will wear look to the screen such .
The majority of laptops have a resolution of 1366×768. This resolution does not have enough space to do multitasking . Plus again , the text that is displayed also looks less sharp but is already sufficient to perform progamming in general .
Resolution of the most well is 1920 x 1080 or plain known by the term Full HD. Resolution of this has a space that is sufficiently broad to do multitasking because it can display the multiple windows simultaneously without losing the information that is needed . The sharpness of the screen is also very good and will definitely spoil the eye .
For a screen resolution of 1920 x 1080 is usually only exist in a computer with the specs are rather high with screens 15 inches . There are several types of laptop 13 or 14 inches that has a resolution of Full HD but very rarely and usually a laptop -class on which is quite expensive .
There is actually one other type of resolution available , 4K or retina display . Resolution 4K is a kind of resolution size of 4096 x 2160 and the retina display is the term Apple to describe the resolution of the major 's .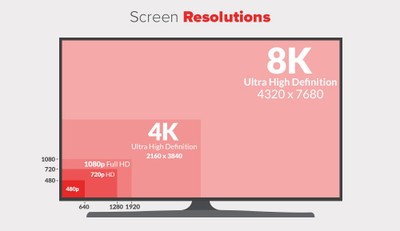 Although it has a resolution that is very high with a sharpness that is beyond the ordinary , screen 4K will eat the source power is also more substantial that will spend the battery more quickly . If you do n't really do work that requires a very large resolution ( a designer seems to need a higher resolution screen ), just try a Full HD resolution screen .
Do not be too imposing themselves if the budget is not sufficient , the screen 1366 x 768 was actually already enough . Multitasking was still able to do , yes even though limited only to two applications are the same ( section left and right ). What if you need more than two ? Enough to use ALT + TAB alone .
3. CPU speed
Speed CPU has the effect of which is quite significant for the performance of the laptop us . CPU ( or processor ) has several specifications that cache size , number of cores , frequency , etc . This specification does not need to be analyzed too deeply . Laptops with processors Intel Core i5 alone is already very good for most needs programming.
Where has the funding is limited , the processor Intel Core i3 even Dual Core also be used if it needs only to do web programming .
4. Amount of Memory (RAM)
For web programming needs , a laptop with 2GB of memory is sufficient . Will be good again if could use a memory of at least 4GB. In essence increasingly large memory RAM will be getting better . If there is fortune upgrade was a bit -by- bit .
Exceptions for programmers who need heavy work such as Android programmers or game programmers who use engines like Unity, Unreal, and the like . For the kind of work this , we shall have a memory which is great . For Android, 4GB was the standard minimum is only for Android Studio course at the time loading that could exercise patience us . Writers are not able to imagine using Android Studio on a laptop less than 4GB, certainly will run with very, very slow . So , if readers do programming Android or programming other takes a lot of sources of power , use the one RAM berukurang least 8GB rather can work with smooth and comfortable .
Because usually RAM has two slots, the process of upgrading – it becomes more easy and cheap . With funds are limited we can only buy a laptop with 4GB RAM and later added another with 4GB of RAM so that its size be 8GB. Techniques like this can help save money .
5. The type and size of the hard drive
During this time , the author has not really paid attention to the importance of using SSD. HDD usual already enough , at least by using the HDD we 've been able to work without hindrance . Would however , if it turns out the work that is done still feels slow when already has a specification laptops are " good ", try thinking to use the SSD.
Comparison of SSD speed with HDD can reach 1: 3 to 1: 5. Look at the comparison of boot times between HDD and SSD from the following PC World site :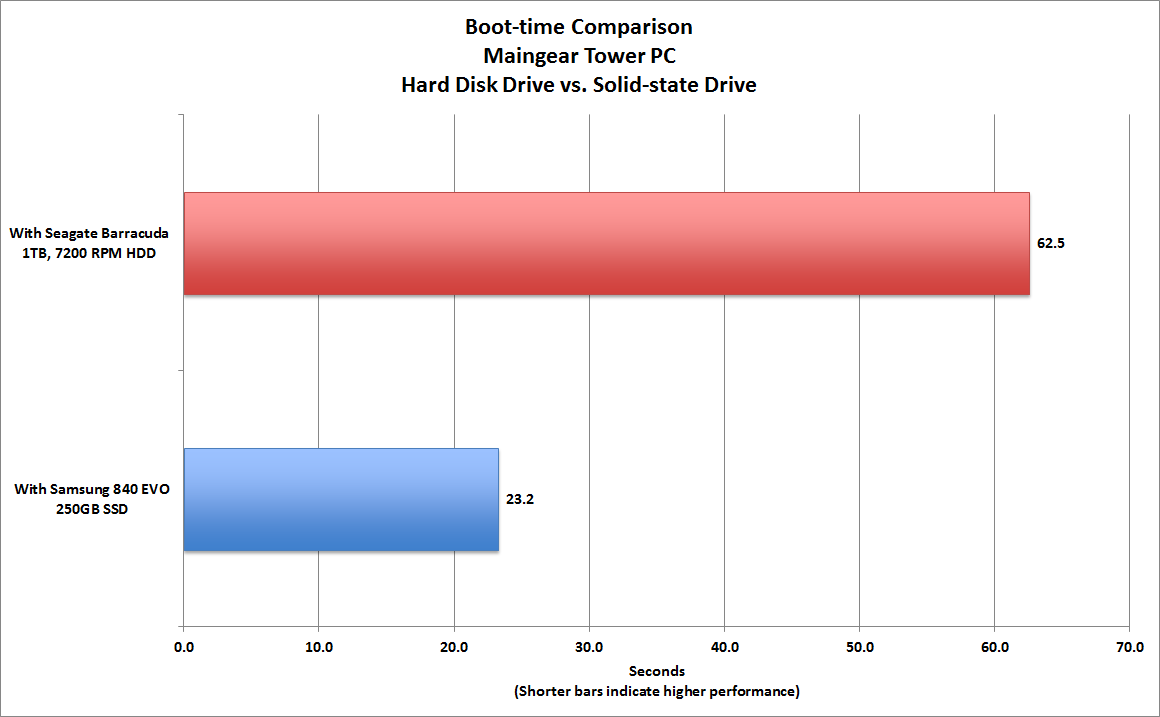 SSD prices are quite expensive . To 128GB only costs between 700rb-1M where the prices are the same we can buy the HDD usual size to 1TB. But the price does not lie , the speed of the SSD is much , much more higher . By because it's , agendakan a day later to upgrade to an SSD at least for the system (128GB is already enough ). For other data (movies, songs , documents , music ) can be stored on a regular HDD .
What is Disk Defragmentation? Do We Need to Defrag a Computer ?
6. Keyboard
What do programmers do most often ? Of course writing code . Having a comfortable keyboard for coding is very influential for a programmer. Tenderness when pressed , the feedback that is obtained , the distance traveled from one button to switch the other sounds like the way empty . But believe me , the keyboard is good not only important for gamers only but is also important for a programmer .
7. Operating System
Both for programming or normal use there are three operating systems that are most widely used , Linux, Windows, and OS X. If the type of programming that is done is not limited by its provider , then any operating system can be used . Kind of programming what are limited so we are obliged to put on one of the systems operating this ?
iPhone , iPad, OS X and other Apple products . To make applications for Apple products , we must use OS X, which means we have to use a Macbook type laptop . Making applications for Apple products can not be done outside the artificial operating system so that we can not use Linux and Windows .
Game programming. Some lots are also game engine that can be used in all three systems operating it , but some game engine popular only be used in Windows or Windows and Mac only . Examples of game engines are among the Construct 2 (Construct 3 already cross platform ), Corona, GameMaker Studio, GameSalad , RPG Maker, and Frostbite.
8. Graphic Card
In addition to game programmers ( especially those using 3D game engines ), graphics cards have little effect when coding . So , to save costs we can choose a laptop with a regular graphics card ( integrated graphic card ). Except if the reader also all want to play games with the laptop it , then the card graphics externally into components that are required there .
Closing
In conclusion , there is no one " best " latop for programming. All laptops can be used for programming ( except for some types of programming that have already been discussed ), so all that remains is to adjust to the budget.
Hopefully this article is useful and helps readers in determining the choice of laptops that will be used for programming.
If readers have opinions other about the matter this , please do not hesitate to comment . The author waits for comments and suggestions from readers in choosing a laptop for programming.