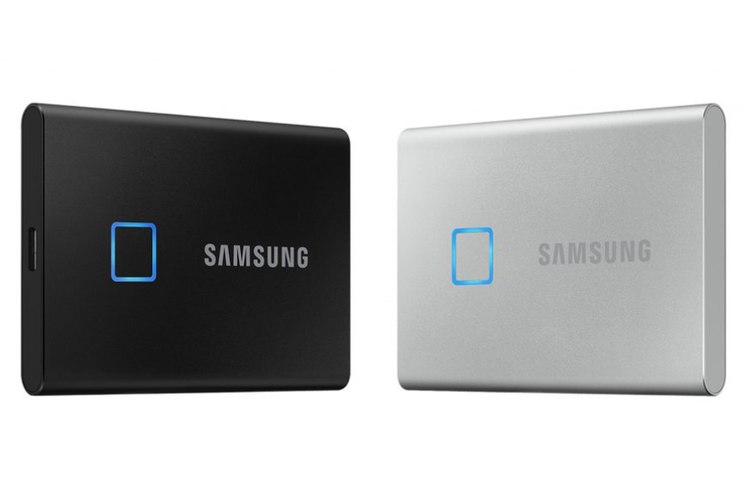 Not only television and various other household devices, Samsung also helped bring Solid State Drive (SSD) devices at the Consumer Electronic Show (CES) 2020 which was held in Las Vegas, USA, last week. The data storage device is the T7 Touch which is equipped with a fingerprint scanner as the main security feature. With these biometric features, various data stored on SSDs can be stored more securely and can only be accessed by the owner. In addition to fingerprints,
SSD T7 Touch user data is also protected with a 256-bit AES hardware encryption system and a password-based data protection system for the software side. For its own speed, the Samsung SSD T7 Touch is claimed to be able to offer twice the write speed and read speed compared to its predecessor, with data transfer rates of up to 1 Gbps each. This device uses a USB Type-C (Gen 2) connector, which supports USB 3.2 Gen 2 with data transfer rates of up to 10 Gbps. SSD T7 Touch has backward compatibility feature, which means it can still be used with previous generation USB types.
This 58 gram SSD also supports Windows, Mac and Android operating systems. Samsung SSD T7 Touch comes in two color variants, namely black and white, plated with titanium shell material, as compiled from GSMArena, Monday (1/13/2020). The plan, T7 Touch portable SSD device will be available around this month in 30 countries and will be sold at 129 US dollars (Rp. 1.7 million) for 500GB capacity, 229 US dollars (Rp. 3.1 million) for 1 TB, and 399 US dollars (Rp. 5.4 million) for 2 TB. Not yet known whether the device will be marketed in Indonesia or not.
Samsung often makes a new breakthrough in the world of technology. Previously, Samsung released the SSD with the largest capacity in the world.
Flash memory-based Solid State Disk storage media offer high speeds, but usually have a relatively small capacity. Not so with this new product introduced by Samsung. Samsung product called PM1643 has a 2.5-inch form factor like other SSDs. The largest capacity in the world, reaching a range of 30.72 terabytes (TB) or 30,720 gigabytes.
In an announcement, Samsung said that the SSD PM1643 is capable of accommodating 5,700 HD movies, assuming each film file is 5 GB in size. The new SSD capacity is twice as high as the previous Samsung SSD of 15.36 TB which was announced in March 2016. But the SSD PM1643 is actually not intended for home users, but for the enterprise.
The interface also uses Serial Attached SCSI (ASA) sequential read speed and write speed each claimed to reach 2,100MB per second and 1,700MB per second, or about three times higher than the average SSD for desktops, the 850 Evo series of Samsung As summarized by The Verge, Wednesday (2/21/2018), to realize such a large SSD capacity, Samsung uses 32 NAND 1 TB flash memory packages, each consisting of 16 V-NAND 512 GB chip layers. Samsung this week just announced the start of SSD PM1643 production. The marketing schedule or price is still unknown.