Ring Inc. (formerly Doorbot) is a home security and smart home company owned by Amazon. Ring manufactures a range of home security products that incorporate outdoor motion-detecting cameras, including its flagship Ring Video Doorbell and its Neighbors app. The company's head office is in Santa Monica, California.
Ring provides video footage from its cameras and data from its Neighbors app to law enforcement agencies upon request. Ring's police partnerships were criticized by media outlets and civil rights advocacy groups for being privacy-invasive.
Ring Doorbell
The Ring Video Doorbell is the company's flagship product; it is a smart doorbell that contains a high-definition camera, a motion sensor, and a microphone and speaker for two-way audio communication. It integrates with an associated mobile app, which allows users to view real-time video from the camera, receive notifications when the doorbell is rung, and communicate with visitors at the door via the integrated speaker and microphone. It is also capable of operating as a surveillance camera, and can automatically trigger recordings when rung, or when its motion sensors are activated. A second-generation model (Ring Doorbell 2) was released in 2017, with refreshed hardware, and a 1080p camera with improved low-light performance.
The "Ring Chime" accessory is a unit plugged into a power outlet to play the doorbell's chime. The "Chime Pro" is an extended version that also doubles as a wireless repeater for Wi-Fi networks.
Ring Doorbell 2
The Ring Video Doorbell 2 ($199 on Amazon) is a relatively modest, incremental update to the original Ring Video Doorbell. And, wow, some of its set-up procedure was seriously frustrating. But as a more-or-less satisfied owner of Ring's first doorbell, I have to give Ring credit: Motion detection is better than ever, and once I got through some initial set-up hassles, Ring Video Doorbell 2 was actually easier to install than the first-generation product.
The Ring Doorbell 2 concept
Just like earlier Ring doorbells, the Video Doorbell 2 is a Wi-Fi-connected security camera with two-way audio. Let's say someone approaches your door and rings the doorbell. The signal hops from the doorbell to your Wi-Fi network, and then to Ring's cloud servers, and eventually to the Ring mobile app on your phone. If you accept the "call," you can see a live video stream of your visitor, and initiate a two-way conversation.
You can see them, but they can't see you. So, whether you're sitting in your living room 10 feet away, or staring at your phone from a coffee shop in a different city, you can screen the visitor and reply appropriately.
Ring Video Doorbell 2: Upgraded features
Improved video quality. Video resolution has been upgraded from 720p to 1080p. Sure, the video quality does look better, but the extra clarity will probably only be necessary when trying to positively I.D. a bad guy—say, a package thief who's making the rounds in your neighborhood. Ring also upgraded the camera's night-vision mode, using an RGBIR sensor for the first time. Night-time video now looks better, as the camera can capture higher-quality images from greater distances.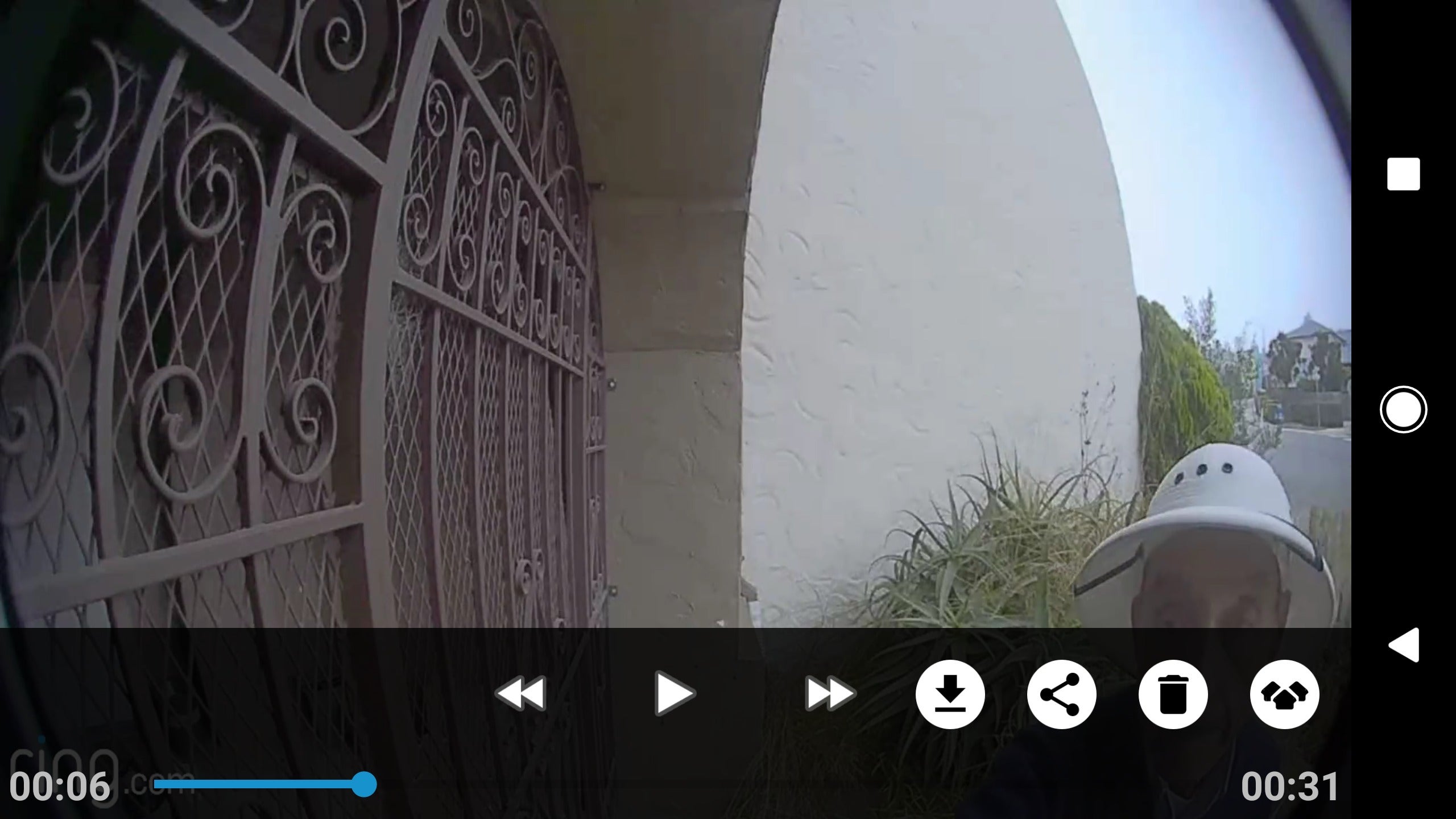 New physical design. As with the original Video Doorbell, the new model can either be hardwired to your existing electrical leads, or run on internal Lithium-ion battery power. The first-generation doorbell had its battery fully integrated inside the doorbell case, so when you needed to recharge, you had to remove the entire device from your wall, and then plug the doorbell into a USB adapter inside the house. The Ring Video Doorbell 2, however, has a removable battery—so you can grab that alone, without having to unscrew the entire doorbell from its moorings.
Better motion detection. Ring doesn't reference improved motion-detection on its product page, but the company confirmed that its heat-sensitive infrared motion sensors do have improved accuracy.