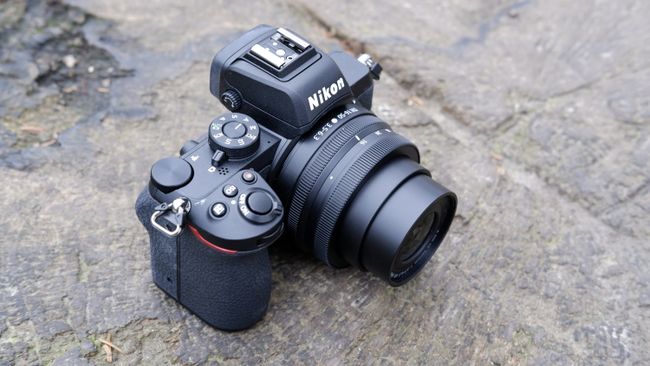 Another mirrorless marvel from Nikon, but the mid-range competition is very hot. Their previous success with Nikon Z6 makes it one of the best cameras in the list. Now they are trying to repeat the trick with their newest Nikon Z50 that uses APS-C camera.
Nikon Z50: Features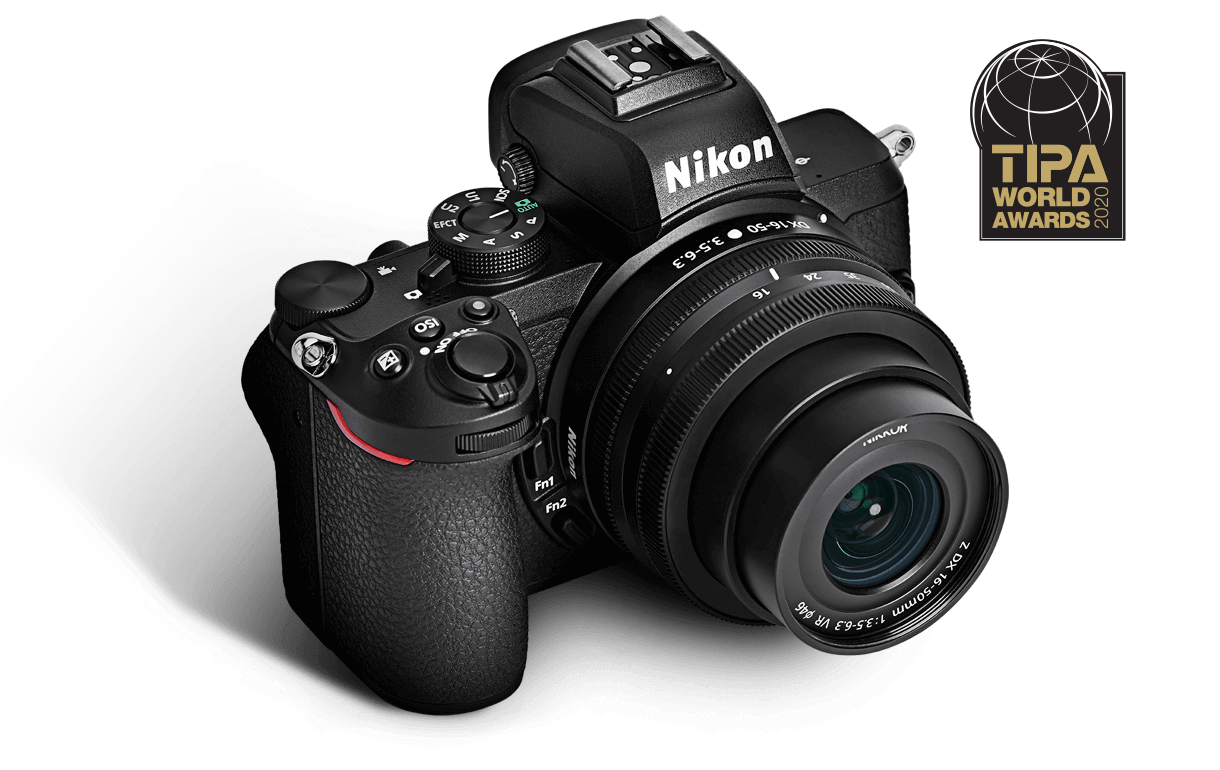 The center of the Z50 is a 20.9 MP sensor, which is joined by an Expeed 6 processor. Although the pixel count is the same as D500 DSLR, the sensor isn't the same. The Expeed engine helps to facilitate features like 4K video recording and the native ISO range, which starts as low as ISO 50 and tops out as ISO 25600.
Nikon Z50 has 209 AF points and ISO range from 100 to 51.200. The max burst of 11fps. You can connect the Z50 using Wi-Fi connection and Bluetooth. It has the same Z-mount as Nikon Z6/Z7 and electronic viewfinder and also tilting touchscreen.
Also joining the party from the Z6 is the same hybrid autofocusing system, with 209 on-sensor AF points that cover approximately 90% of the frame and promise to deliver edge-to-edge sharpness. Sensitivity down to -4EV is promised for low-light shooting, and there's also Eye-Detection AF, which should come in handy when photographing people; unlike Sony's similarly specced models, there's no Animal Eye AF, though.
To compose your images, you've got the choice of a 0.39-inch, 2360k-dot electronic viewfinder or a 3.2-inch tilting TFT LCD, which is touch-sensitive. Unlike the Z6/Z7, you have the benefit of tilting this to face forward from the bottom hinge, making it useful for selfies – but less so for attaching the camera to a tripod.
The option of shooting 4K video is pretty standard on most cameras now, and the Z50 includes this, with frame rates up to 30fps available.
To transfer your files to your smartphone there's in-built Wi-Fi and Bluetooth, which works with Nikon's SnapBridge app. There's a micro USB port for in-camera charging too, which means you can restore its charge via a portable external battery, although it's a shame this isn't the increasingly common USB-C connection type.
A final thing worth mentioning is that this camera accepts SD cards in its single card slot, rather than the XQD format used by the Z6/Z7. This is good news for those who are already in possession of a stack of SD cards – and for the wallets of those who aren't, as this format is much cheaper than XQD.
Nikon Z50: Build and handling
Place the Z50 next to its full-frame siblings, the Z6 and Z7, and you can definitely see the resemblance. They have the same kind layout, viewfinder placement and button layout, only in a more compact frame.
Using the camera with the new Nikkor 16-50mm f/3.5-5.6 'pancake' lens makes for a very neat overall package; it's not quite pocket-friendly, but it certainly slides much more neatly into smaller bags than a full-frame equivalent.
Some of the controls in Z50 have been removed to save space. There are no more top-plate LCD, and no joystick on the back of the camera, which is, make a little bit of loss to us.
Although the touchscreen is pretty handy, you can't continue to use it while working with the viewfinder though. So you might find it a little bit slower while selecting your preferable AF point, because you have to work with the much slower directional keys.
The positive side on note, the buttons on Z50 don't feel too cramped, despite being placed in a smaller form factor. The grip is steady and comfortable to use for long period of time. Some of the removed buttons have been replaced on the touchscreen options, such is the magnify option and display option.
On the top of the camera is a mode dial, with a switch that allows you to jump straight to shooting video, and back to still again. The top is also house to a dedicated video record button, an ISO button and an exposure compensation button.
While the Z50's electronic viewfinder isn't quite up to the standard of those on its full-frame siblings – not that you'd expect it to be – it remains very usable, and if you've never used one of the full-frame models, you're also much less likely to notice the reduction in quality. The tilting screen is also great, with the new forward-facing option being helpful for selfies and video recording, though some will be disappointed that you can't use it easily when the camera is mounted on a tripod.
Nikon Z50: Performance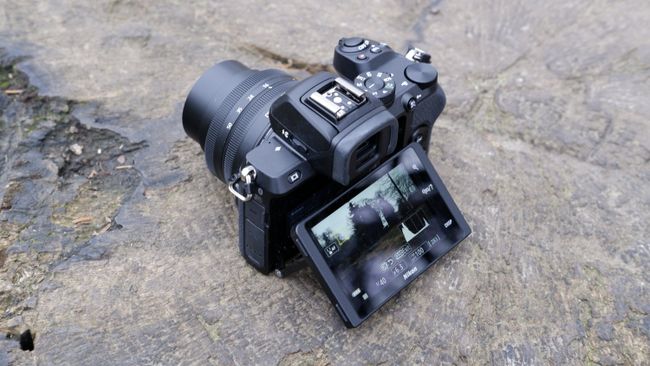 The Nikon Z50 uses the same AF system as the Z6, with the impressive array of 209 points giving you 90% coverage across the frame.
The Z50 is capable of locking onto subjects quickly and easily, and its rarely picks out the wrong subject when set to Auto-area AF. You can select your own AF point when switching to Single-point AF. Just switching to AF-C to moving subjects and don't forget to enable a continuous frame rate.
If you're someone with a penchant for photographing sports and action, this is probably not the camera for you. But for the occasional moving subject, such as pets and kids, it copes reasonably well.
You moth find it disappointing that only the slower UHS-I SD cards are compatible with the Z50. Although up to 11fps shooting is available, relying on these cards means the buffer tends to fill up fairly quickly. However, if you're just shooting for a few seconds here and there it's not too problematic.
Eye AF does a great job of detecting a subject's eye in a scene, and following it even when the face moves around. Although, his is probably not a camera that will be used extensively by professional portrait photographers, but for those who take family snapshots, this kind of feature can prove invaluable.
A 300-shot battery life is promised from the new EN-EL25 battery for the Z50. While this isn't the most generous rating on the market, that 300 figure is a conservative estimate, and in practice you should find that at the very least it lasts for a full day of average shooting. If you're someone who likes to capture a lot of 4K video, though, it might be worth buying an extra battery.
Nikon Z50: image quality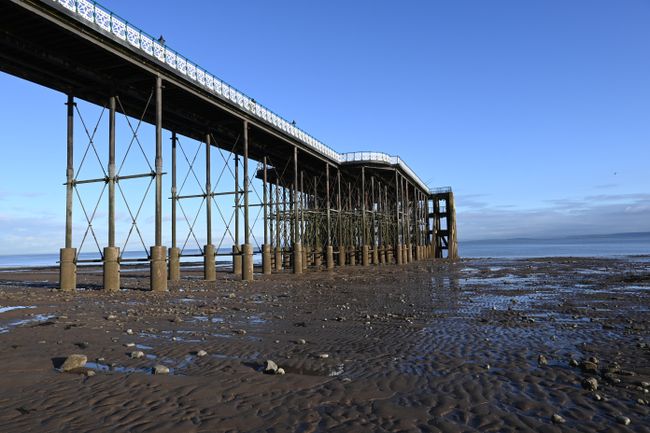 The Nikon Z50 produce a pretty great overall impression despite that it has lower resolution than the previous products. When pixel- peeping at 100%, you'll likely see that the detail isn't quite as fine as from the 45.7MP Nikon Z7, but for the price and level you wouldn't expect that to be the case.
The realistic colors and good amount vibrancy and saturation produced by the Nikon Z50 did a very good job. The automatic white balance setting copes well with different lighting conditions, perhaps erring just a touch towards yellowish tones when faced with artificial lighting sources.
In low light, with its smaller sensor, the Z50 doesn't cope quite as well as previous versions, but it still puts in a good performance. It's best if you can keep the ISO setting to ISO 6400 or below, as from ISO 12800 up you can see noticeable smoothing, when looking at images at A4 size; you can get away with higher ISOs if you only intend to share or print a smaller image.
Verdict
If you're already a fan of the Nikon it's an especially tempting proposition. The Z50 is also a great option for those looking for their first 'proper' camera, giving you many of the perks of the Z6/Z7 without such a high price tag.
The build and handling of Nikon Z50 is eye-catching and with the miniaturized model of the older version. The deep grip and nice placed buttons make it comfortable to use in most situations, even without the joystick. The viewfinder, while smaller and lower in resolution than those found on the Z6 and Z7, is still very usable and comfortable to use.
The tilting ability sure is handy, but you cannot use it with a tripod because it tilt from the bottom of the camera. It still useable for selfies but less useful if you intending to use it for vlogging.
The Z50 is a fantastic first foray into the APS-C mirrorless market for Nikon. It shows that the company is keen to keep developing in this area, and perhaps signals another nail in the coffin for DSLRs, at least at the hobbyist level. It's not a perfect camera, but it is a very good one – and one that will only get better as the price drops, and more lenses become available.
Images credit : Future