Not only humans who enjoy music for daily activities, pets are also said to be able to enjoy music to improve their mood. As summarized KompasTekno from Spotify Newsroom, Saturday (1/18/2020), based on Spotify's research results, it was reported that 8 out of 10 animal owners believe that their pets also like listening to music.
The Spotify online survey was conducted on 5,000 pet lovers in the US, UK, Australia, Italy and Spain. As many as 71 percent of them often play music for their pets, and 57 percent also often sing for pets. Meanwhile, 69 percent of pet owners also participate in inviting their pets to dance together. Spotify then creates playlists specifically for pets. This feature was launched on Wednesday (1/15/2020). "There is something unique about the relationship that humans have with pets. It's difficult to express the emotions that animals give to humans," Spotify wrote in his official broadcast. Also read: Netflix and Spotify Fines Threatened If Avoiding Taxes in Indonesia "So we want to make them feel happy too, and many pet owners do it with music," added Spotify. How to make pets Spotify Playlists To customize what music is liked by pets, Spotify presents a little personality survey when users register their animal playlists.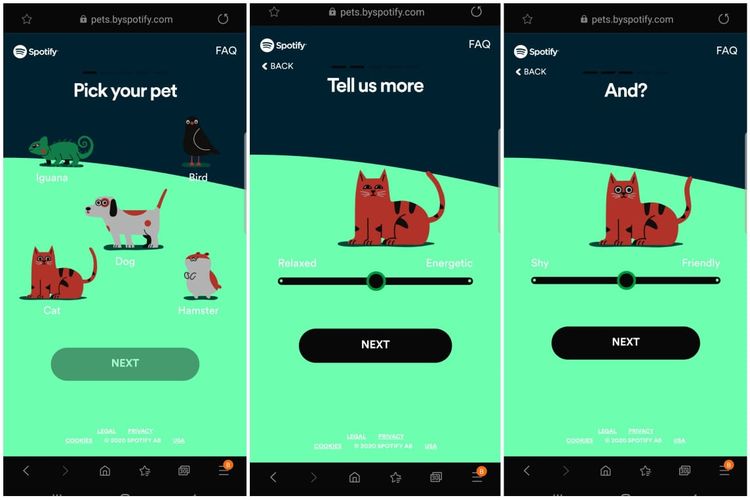 Playlists are prepared using artificial intelligence (AI) and some supporting information to unite the user's musical tastes with the tastes of pet music. Also read: Spotify Lite Officially Launched in Indonesia, Save More Data If you want to make a pet playlist, you can follow a number of stages. First, open this page or open Pets. Spotify.com in a browser. Then click the "Lets Go" button in the middle of the page. After that, Spotify will display selected pets such as Chameleons, Cats, Dogs, Hamsters, or Birds. Choose your pet. After selecting it, Spotify will invite you to do a small survey to "personalize" or adapt the music to your pet's personality. In the survey you will be asked to determine the nature or personality of your pet. From relaxed or energetic to shy or friendly. How to make a pet-specific playlist on Spotify (KOMPAS / Putri Zakia Salsabila) After passing the survey, you will be asked to take photos of pets and write their names. Artificial Spotify Intelligence will also guess your animal's personality through photos. Also read: Downloadable, Here's the Difference between Spotify Lite and the Standard Version Later, Spotify will also synchronize your music tastes with pet music tastes. After going through the stages above, a special pet playlist has also been formed on Spotify.