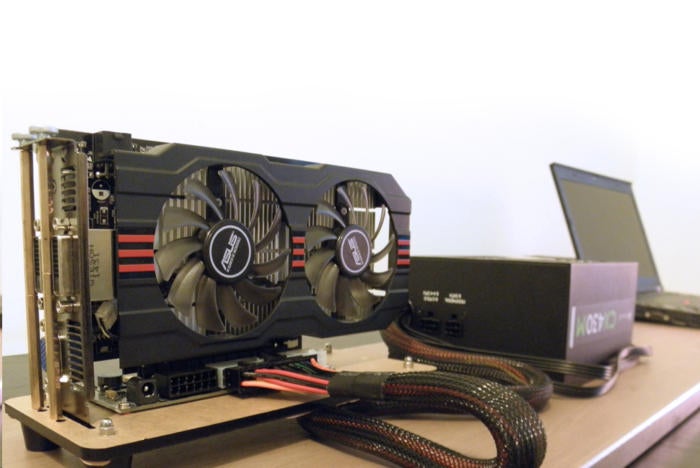 Setting up your eGPU
The research is done, the BPlus board has arrived, your graphics card is ready for unboxing, and so is the PSU. It's time to get this eGPU rocking.
For our example, we hooked up an MSI Armor RX 580 8GB overclocked edition and a Corsair CX430M PSU to a PE4C 2.1a from BPlus. The board connects to an aging Lenovo X220 via an ExpressCard slot, and the card also connects to an external 22-inch 1080p display via one of the RX 580's DVI ports. The images below show the Asus GeForce GTX 750 Ti that we originally used for this article, but the process is the same regardless of which graphics card you use.
First, slip your graphics card into the PCIe slot on the BPlus board.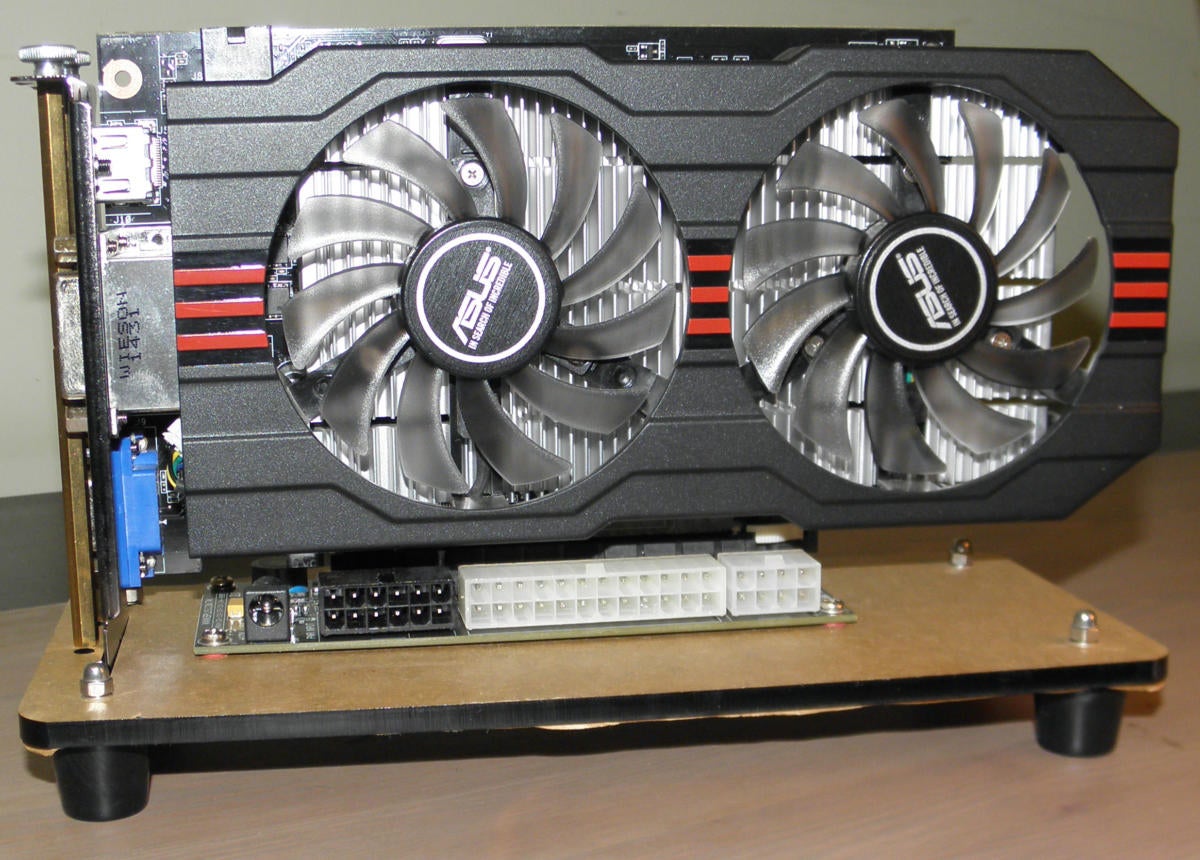 Next, hook your (not yet powered-on) PSU's 24-pin ATX power supply pins into the BPlus board.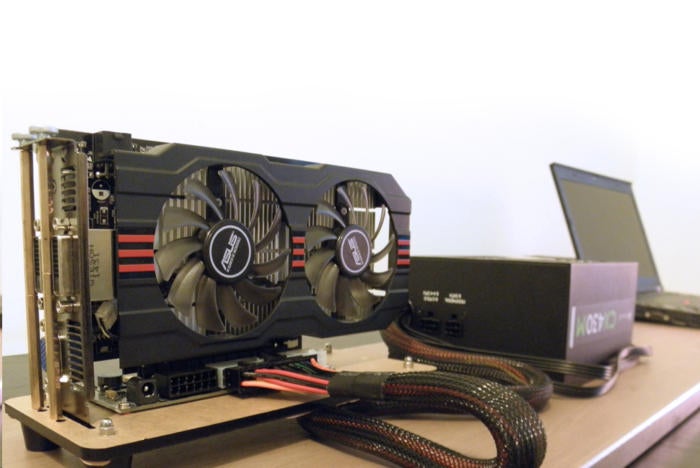 Now connect the 8-pin PCIe connector on the board to the 6-pin power connector on the graphics card.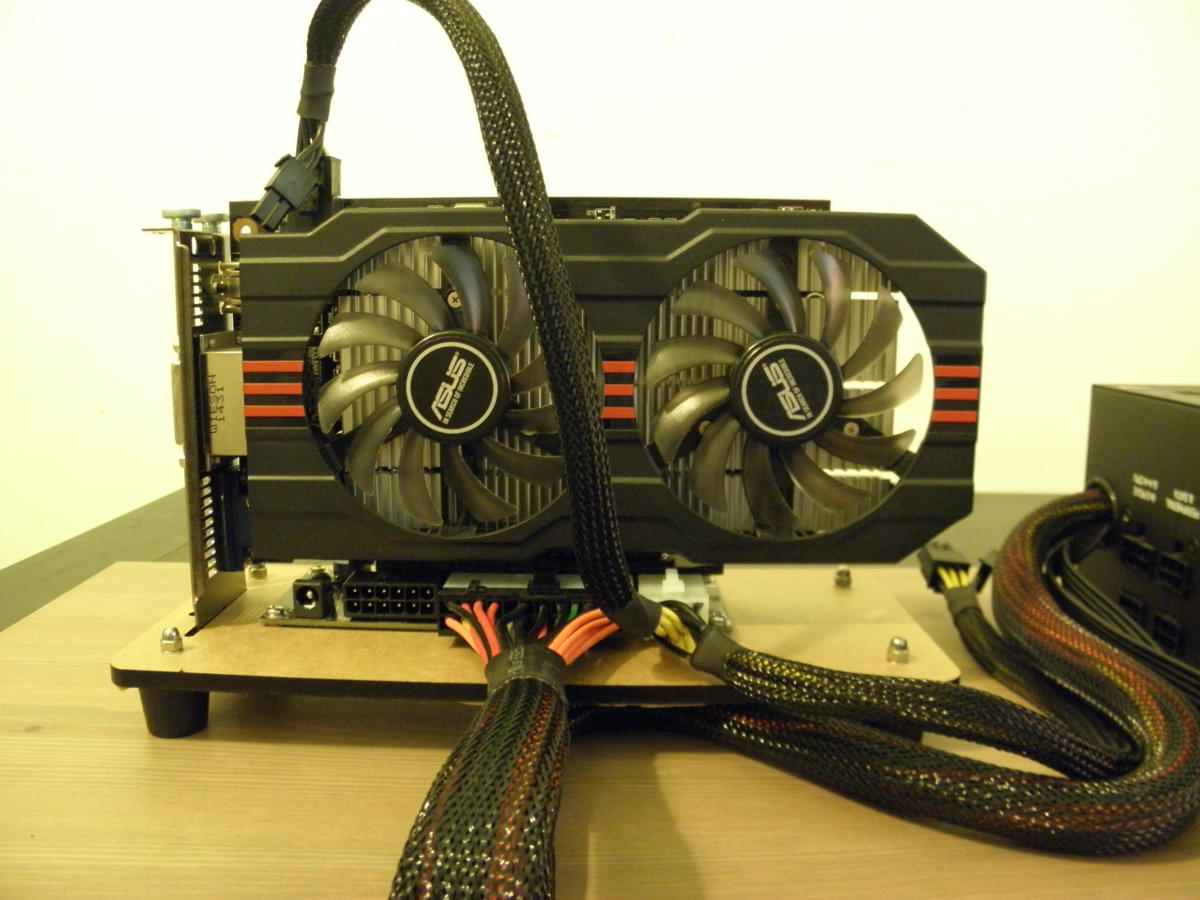 Finally, insert the ExpressCard cable into the laptop, then slide the opposite side of the cable—the one with the HDMI connection—into the HDMI port labled "X1" on the PCIe adapter. At this point you'd also connect your graphics card directly to your external monitor, typically via HDMI or DVI.
Now it's time for the moment of truth. Flip on your PSU (don't worry if nothing happens yet), power on the external display, and then boot your laptop—or at least, that's the boot order that works for me. Some users report that booting an eGPU setup works only when they hook into the ExpressCard slot after the initial boot, or after Windows loads.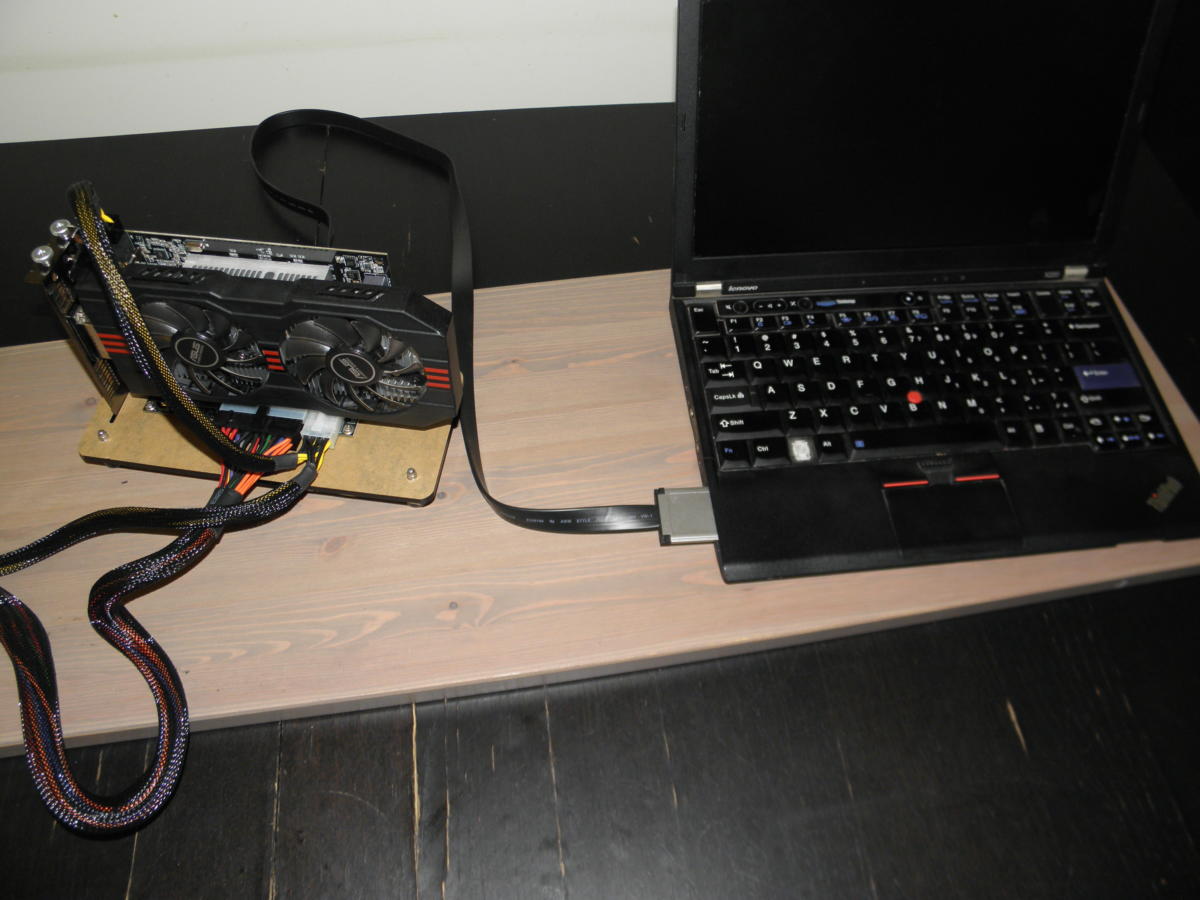 Whatever your boot order is, and assuming you had a plug-and-play setup like I did, you should boot into Windows as usual. Your laptop may make a few false starts before it powers on correctly, because you've added new hardware to it. Once you're in Windows, you can check to see if your graphics card is detected by opening the device manager and looking under Display adapters.
If your graphics card is unidentified, manually download and install your card's drivers from AMD or Nvidia. You may then need to reboot the system to get your eGPU setup working properly.
Once that's done it's on to the wonderful world of gaming. Here's a look at some eGPU benchmarks I ran on my own Radeon RX 580-powered setup to give you a sense of what to expect from a comparable system. Remember that the RX 580 is a 1080p gaming card. Higher powered graphics cards can obviously perform much better.
DIY eGPU benchmarks
Our test rig in this case is the aforementioned Lenovo ThinkPad X220, packing a 2.7GHz dual-core Intel "Sandy Bridge" Core i7 2620-M with HyperThreading and a boost clock of 3.4GHz, 8GB of RAM, a 500GB Samsung 850 EVO SSD, an external 22-inch 1080p display from LG, and Windows 10 Pro 64-bit.
MENTIONED IN THIS ARTICLE
The eGPU hardware consists of an MSI Armor Radeon RX 580 8GB OC, a Corsair CX430M PSU (this PSU is no longer available but a 450W version is), and a BPlus PE4c 2.1a PCIe adapter over HDMI to ExpressCard. This adapter is no longer available on the HWTools website (though this close relation is). This is my second eGPU card. Originally I used the Nvidia GeForce GTX 750 Ti, but recently upgraded. Total cost at the time of writing: About $300, though you can often catch the Radeon graphics card on sale for about $180. Either way it's still far less than the cost of a whole new gaming PC.
These benchmarks include a look at the difference between the CPU's integrated graphics (admittedly ancient at this point), the original benchmarks from the 750 Ti when this article was first published, and the more recent results of the RX 580. These tests are not meant to be representative of the GTX 750 Ti's or the RX 580's performance. Instead it's about what someone with a similar eGPU setup can expect—and to drive home that a graphics card offers a huge leap in gaming performance over CPU-integrated graphics even with this eGPU's significant bottleneck.
My tests used a PCIe 3.0 graphics card over a PCIe 2.0 connection. Results would likely be higher with the BPlus PE4C 3.0 not only because of the newer PCIe slot, but also because the HDMI-ExpressCard cable that comes with that kit supplies a better signal to the laptop.
That's enough setting of the scene. Let's dig in.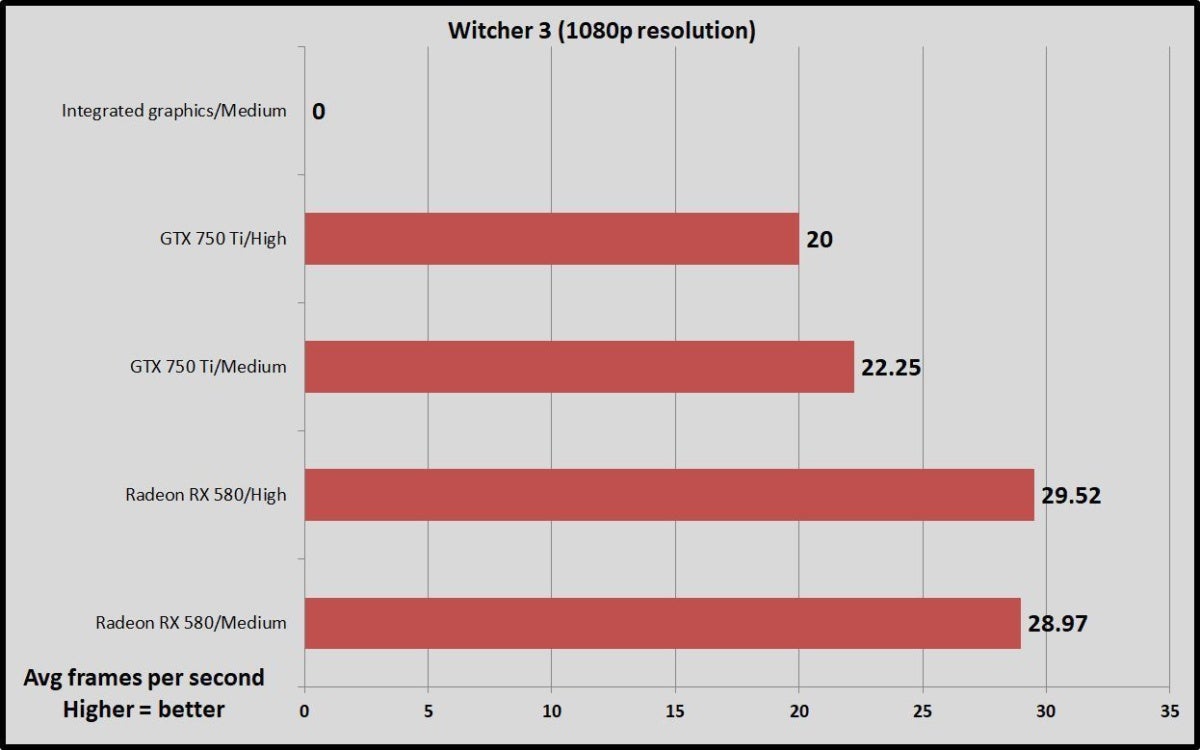 MENTIONED IN THIS ARTICLE
After looking at my numbers for Witcher 3: The Wild Hunt most hardcore gamers will cringe in horror. With the 750 Ti I had to dial it down to medium graphics at 720p resolution to get to a consistent 30 fps or more and hit console-level quality—and that was with Nvidia Hairworks turned off. Witcher 3 is very graphics-intensive, but I noticed serious stuttering and other problems only when the frame rate went below 22 fps.
Notice that the RX 580 had a small jump in performance over the 750 Ti. It would definitely be noticeable as the newer card came closer to hitting a consistent 30fps during gameplay, but it wasn't a dramatic shift. That suggests the PCIe bottleneck is quite a limiting factor, even when playing older games with newer cards.
The fact that I can play the game at all, and in full-screen, is a huge step forward over integrated graphics, which couldn't run Witcher 3 whatsoever. A more powerful graphics card would offer higher frame rates, but it would still be significantly hampered by the bottleneck.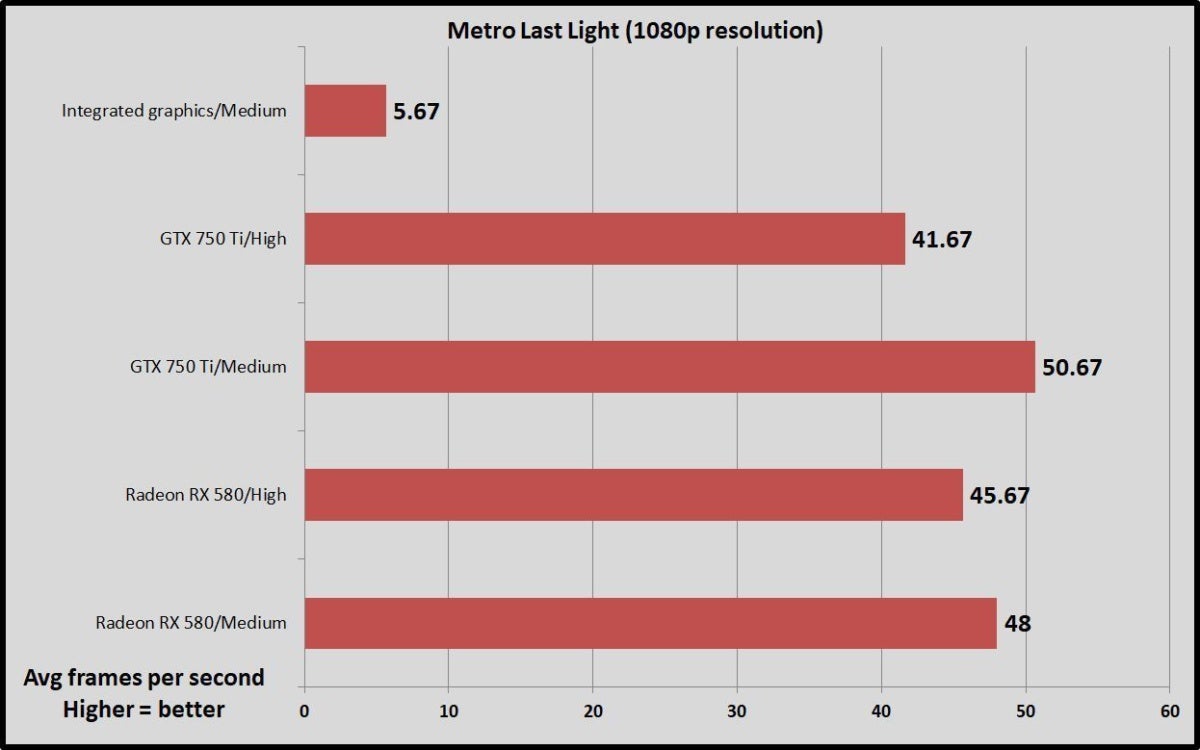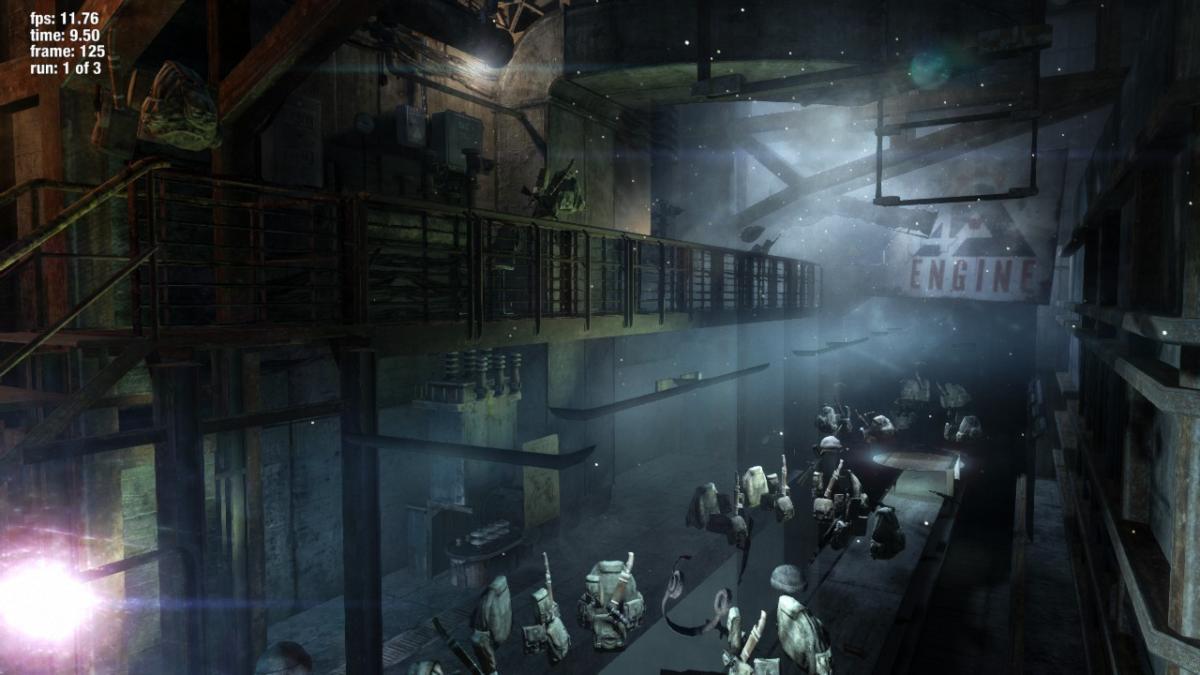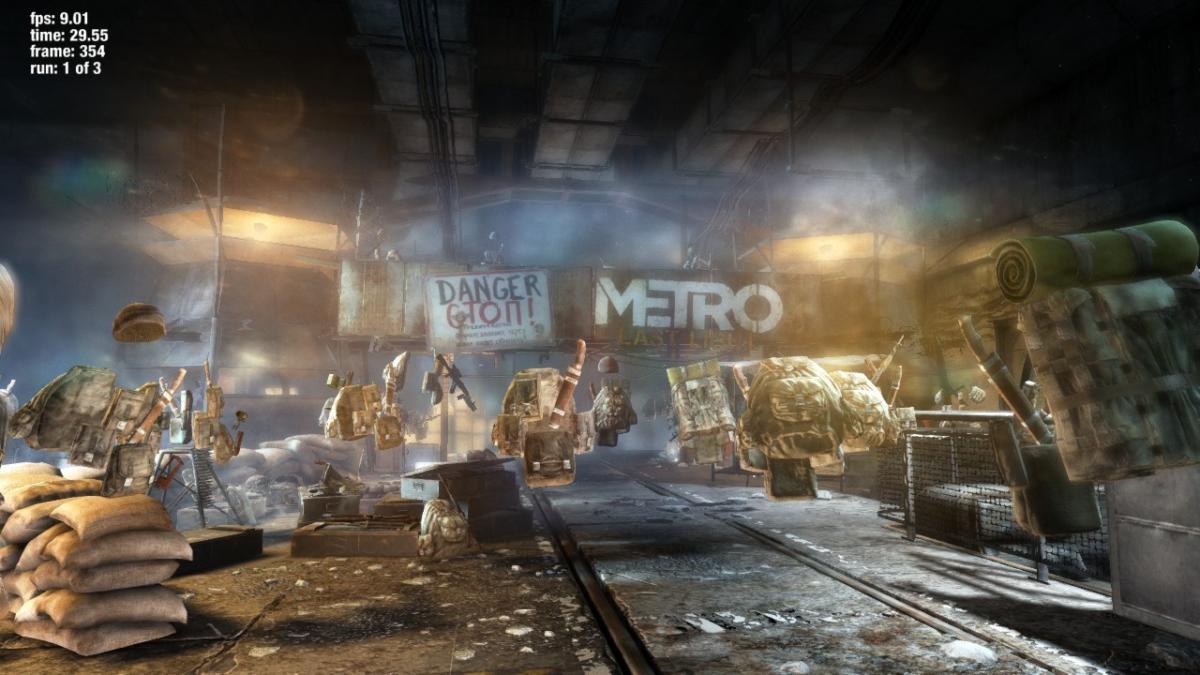 Less intensive games easily clear the 30fps mark, including Metro: Last Light Redux. To put the integrated graphics performance in proper perspective I've also included some screenshots of the benchmark running with the eGPU disconnected. All those backpacks floating in midair are supposed to be attached to soldiers, but the integrated graphics simply can't handle them.
Taking a look at the results of the GTX 750 Ti and the RX 580 it's odd that the 750 Ti squeaked out an extra two frames and change per second on the medium settings over the newer AMD card. That was unexpected—though the benchmark ran three times in a row. The high settings, meanwhile, show a slight bump the other way around. Again, we're seeing the bottleneck at work, though this game has always performed better on Nvidia hardware.
In fact, because of that PCIe bottleneck not all games run flawlessly on this eGPU setup. I tried Battlefield 4 way back when this article was first published, and the game ran for only 10 minutes before it failed. Star Wars Battlefront II was also a bust, as was Madden NFL 19. Maybe EA just doesn't like eGPU set-ups, but it's a reminder that you need to buy your games from online retailers with return policies like GOG and Steam, or those that offer limited-time trials like EA's Origin Access. You don't want to be stuck paying $60 for a game that won't work on your system.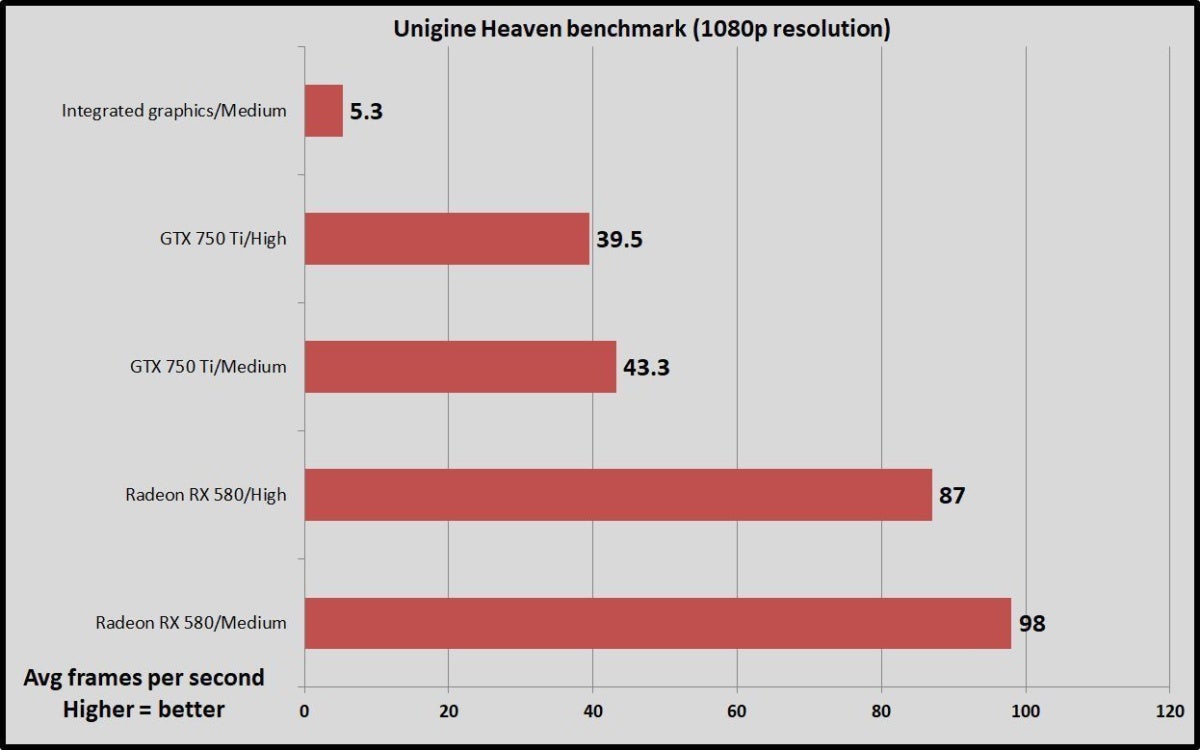 Finally, check out the major frame rate leap that my eGPU brings in the Unigine Heaven 4.0 benchmark. This is where the RX 580 showed its true prowess over the 750 Ti completely blowing away the older GTX model.