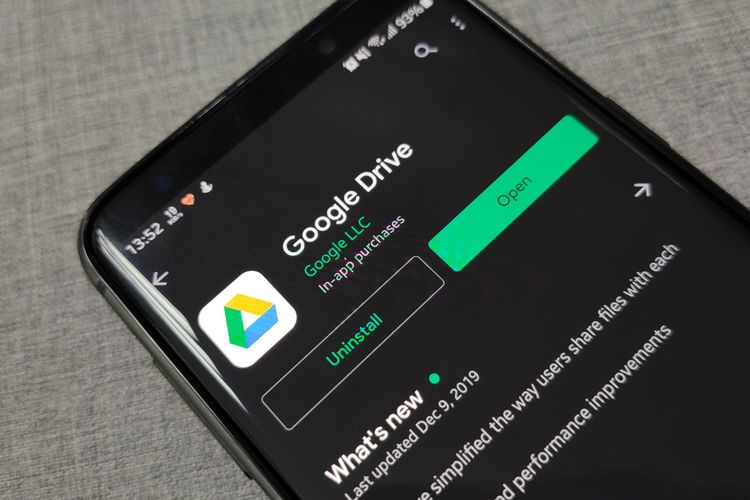 Google Drive is a Google's cloud storage service available to all Google users. This service can be used to store various documents using only a Google account.
This service provides 15 GB of storage capacity for free or free. Users can increase their capacity to 100 GB or a maximum of 30 TB by paying a subscription fee. In addition to storing, various files that are stored in Google Drive, such as documents, music, pictures, and videos can actually be shared with relatives or others. The requirement is that the person must have an e-mail address. So, how to share files via Google Drive?
Following are the steps to share files via Google Drive. Desktop version of Google Drive First, open the drive.google.com page and make sure you are logged in with your respective Google account. Then, select and upload the file you want to send by tapping the "+ New" button and selecting the "File upload" menu.
After selecting and uploading the desired file, there will be a pop-up window that displays the file upload process. When the upload process is complete, click the "Show file location" icon on the right side of the window. A few moments later, you will be presented with the file that was uploaded. Right-click the file and select the "Share" menu. Then, a window will appear that requires you to enter the e-mail address of the user you want to send the file to.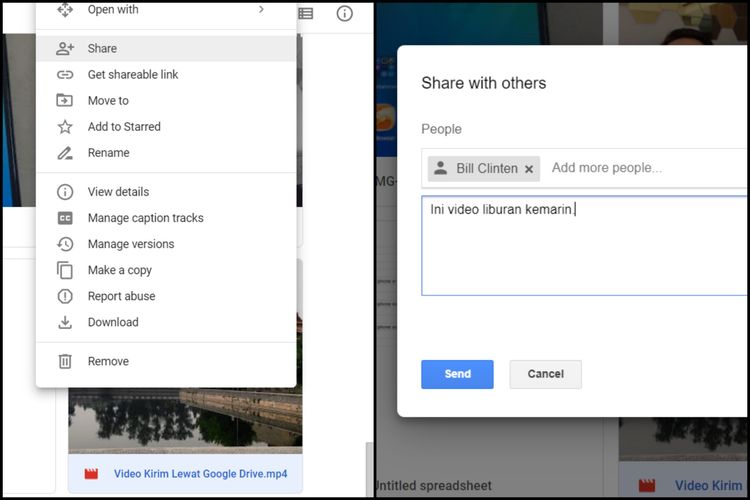 Enter the e-mail address of the recipient of the file in the "People" column and provide some notes in the column that follows it. Finally, click the "Send" button.
Mobile version of Google Drive In addition to the desktop version, you can also send files via the mobile version of the Google Drive application (Android & iOS). The method itself is quite easy and almost the same as the desktop version of Google Drive. Open the Google Drive application on each smartphone and click the "+" button and tap the "Upload" icon.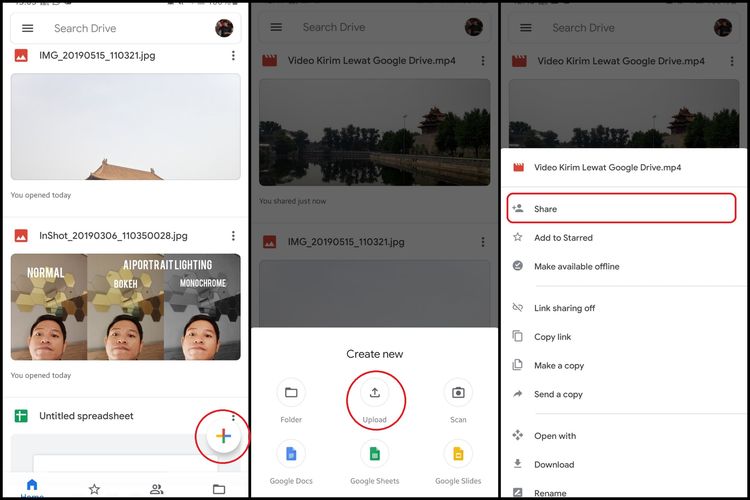 If so, select the file you want to send in the available file browser view. After that, Google Drive will automatically upload the file shortly after the user selects the file or clicks the "Open" button (if there are more than one file you want to upload). After the upload process is complete, find and select the file that was uploaded earlier and click the "three dot" icon to the right of the file name. Then, tap on the "Share" menu. Just like the desktop version, users are required to enter the e-mail address of the file destination immediately after clicking on the "Share" menu. After filling in the required information, click the "Send" button