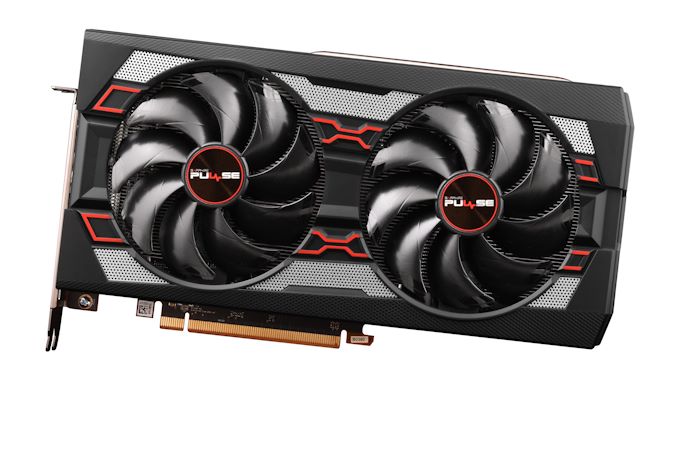 The AMD Radeon RX 5600 XT arrives in an odd state for the graphics card industry. AMD has finally been able to put out a GPU that stands completely alone in the forefront of the 1080p segment.
The performance is strong enough here to make it the de facto recommendation for the type of user that's still on 1080p in 2020, but really wants to take that resolution to the limit.
Price and availability
The AMD Radeon RX 5600 XT is available right now, starting at $279 with some cards going higher in price, depending on manufacturer and model. The Radeon RX 5600 XT we were provided with for review is the Sapphire Pulse model, which carries a slight factory overclock and a dual BIOS, and retails for $289.
After the RTX 2060 Super came out in July, the original RTX 2060 price cuts down to $349, but prices have fallen even more since then. You can get a standard non-overclocked RTX 2060 from the likes of EVGA for around $299. However even at that lower price point, Nvidia's entry-level ray tracing card fails to topple the Radeon RX 5600 XT.
Features and software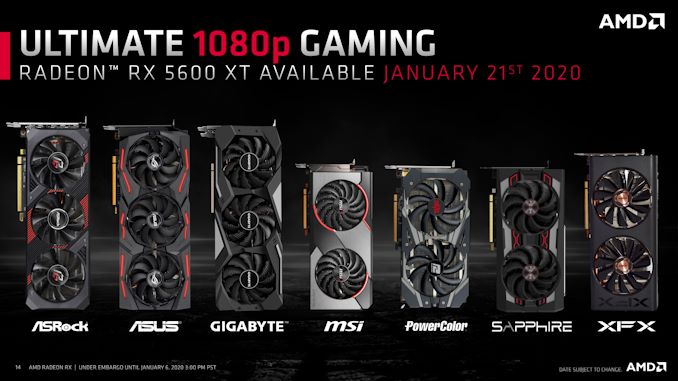 The AMD Radeon RX 5600 XT stands right between the Radeon RX 5500 XT and the RX 5700, which means it's based on the same 7nm rDNA graphics architecture.
RX 5600 XT seems beefier than RX 5500 XT. It equipped with 1,408 Stream Processors in 32 compute unit while RX 5600 XT have up to 2,304, the same as AMD Radeon RX 5700.
Unlike the Radeon RX 5700, memory capacity and the memory bus get a cut to 6GB and 192-bit. That means the RX 5600 sees a big cut in 1440p performance, but it is still playable.
You don't have to worry if you're a gamer, 1080p gaming is a piece of cake to the 6GB of GDDR6 memory, but be careful when you try to turn that resolution slider up.
The VRAM is the same amount as GeForce GTX 1660 Ti but AMD already packed the Radeon RX 5500 XT with up to 8GB.
AMD will have ray tracing in some capacity at some point – Team Red will be behind the next generation consoles, after all. However, right now if you want to jump in on these graphical bells and whistles, you're still stuck with Nvidia. The amount of PC games out there that will let you enable ray tracing grows with each passing day, and AMD graphics cards simply can't handle these effects.
The new feature of this AMD is the Radeon Boost. Now, when you're playing ultra-competitive games like Overwatch or Counter-Strike, frame-rate is king 100% of the time. What Boost does is sense when your camera is moving quickly and intelligently lowers the resolution of background areas of the scene, greatly improving framerate when it matters: high movement scenarios.
Just pair it with Radeon Anti-Lag and you will cut the amount of time needed to synchronize frames between your GPU and CPU.
Performance
The AMD Radeon RX 5600 XT has 3DMark 11, which is pretty great. In Firestrike Ultra, not only is the 5600 XT a whopping 30% faster than the GTX 1660 Ti – which, again, is the same price – but it beats the RTX 2060 by 13%.
Gaming performance follows a similar pattern, too. In Metro Exodus with Ultra Settings, the AMD Radeon RX 5600 XT is 5% faster than the RTX 2060 and 20% faster than the GeForce GTX 1660 Ti. But, in Middle Earth: Shadow of War, Nvidia's hardware does much better, with the RTX 2060 pulling ahead by 12% at 1080p. But, it's important to note that the GTX 1660 Ti doesn't beat the RX 5600 XT in a single test.
In response to Nvidia's price drop of the RTX 2060, AMD released a VBIOS update to its aftermarket partners. But after updating the VBIOS, the performance jumped up significantly to the point where it absolutely dominates the RTX 2060 whenever the 6GB of VRAM in the Sapphire Pulse RX 5600 XT wasn't the limiting factor.
After updating to the new VBIOS, the performance jumped by around 8% in all testing, further widening the gap over the card's original target, the Nvidia GeForce GTX 1660 Ti.
We could probably go on at length about how the Nvidia GeForce GTX 1660 Ti is essentially obsolete at this point and should be ignored, but the fact is that Nvidia is still selling it, even if at its price point it simply doesn't make sense. The AMD Radeon RX 5600 XT shows users what kind of performance they should expect at this price level, and for that we have nothing but props to give Team Red.
Final verdict
If you've been on the market for a 1080p graphics card recently our hearts truly go out to you. The marketplace is legitimately super confusing right now, what with Nvidia's four graphics cards that all do essentially the same thing and AMD's old Polaris cards confusing the market even more.
But with the AMD Radeon RX 5600 XT, we feel like the competition is finally there to clear things up, and it may just be the best 1080p gaming card out there if you're after raw performance.
The only people we would refrain from recommending the RX 5600 XT to would be anyone that wants to take advantage of Nvidia's ray tracing technology. We're still disappointed that AMD hasn't done anything in this arena yet, and with some models of the Nvidia GeForce RTX 2060 being so close to the 5600 XT in price, it makes a lot of sense to take that small step up if you want to live your life ray traced.