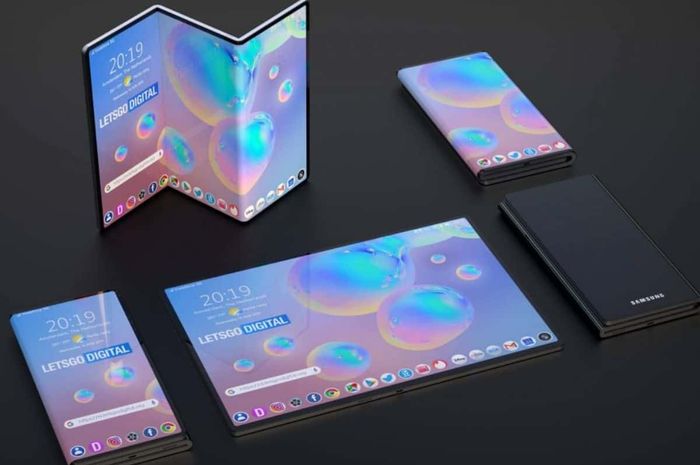 Foldable phones or folding smartphones will now become a new trend in the mobile market. Vendors such as ZTE, Royole, Samsung, Huawei, have released their folding phones. While Xiaomi and LG are rumored to be releasing their folding phones in 2019 soon. The ZTE Axon M folding screen phone was released at the end of 2017 last year. While the Royole brand may sound foreign to Indonesian people. But the FlexPai version was released at CES 2019, in Las Vegas last January. Being the two newly released folding screen phones are Huawei Mate X and Samsung Galaxy Fold.
For normal smartphone users with a 5.5-6 inch screen like us. What are the pluses and minuses of folding screen phones? Next I will summarize some of the pluses and minuses of folding screen phones.
PLUS
First, it has a wider screen. ZTE Axon M is actually 2 cellphones put together. Combined with a hinge, the ZTE Axon M has a total screen area of ​​6.75 inches. The main screen of Huawei Mate X is 6.6 inches. The second screen is 6.4 inches. If both screens are opened it will display an 8 inch screen. Both screens will be on the outside of the phone, not inside like Galaxy Fold. Galaxy Fold folds like a book. On one screen Galaxy Fold measuring 4.6 inches. If opened it will be 7.3 inches. Medium Royole FlexPai folding screen has a width of 7.8 inches if opened on both sides.
Second, it contains higher specs and features than ordinary smartphones. With a screen width of almost 8 inches. Huawei Mate X has specifications like OLED screen and 30 minutes recharge speed (85%). Mate X is also the only folding screen phone with 5G broadband. Being on the Galaxy Fold, both screens already have their own batteries. Galaxy Fold has 12 GB of RAM and a storage capacity of 512 GB. While on FlexPai, it has sailed 1,440 xixel AMOLED and 2.8 GHz Snapdragon processor.
Third, it has dual functions, namely as a cellphone or tablet. With a screen width of more than 7.5 inches on the three releases above. The smartphone function is certainly enriched with features like a tablet or even a laptop or PC.
Reportedly, some applications will be able to run either on one screen or two screens at once. This system is called Multi Display. While the default OS from manufacturers such as OS Water from Royole has been adapted to folding screens.
MINUS
First, the potential for higher cellphone prices. In 2017 alone the ZTE Axon M has been priced at more than 10 million Rupiah. Differ slightly from the price of the iPhone XR, Google Pixel 3 and Galaxy Note 9 at that time. For Huawei Mate X reportedly will be released to the market in mid-2019 with a price of almost 37 million Rupiah. Significantly different from the Galaxy Fold which is sold at a price range of nearly 28 million Rupiah. Until now there has been no spec or price for folding phones from Xiaomi or LG.
Second, differences in habits using a smartphone. What will happen is the confusion between the habit of using a cellphone or tablet. Foldable screen phones are actually tablets that can be folded in (Galaxy Fold) or outside (Mate X). For those who are not accustomed to using tablets, of course rarely open both screens. But for the audience of games, videos, or office work applications, of course a wider screen will provide more benefits.
Third, folding cell phone thickness and battery life will be obstacles. Huawei Mate X reportedly only measures 11 mm when folded. But if bagged in pants, certainly not as thick as the iPhone XR which is only 8 mm thick. Moreover, thick ZTE Axon M (12.2 mm) and Galaxy Fold (17 mm). Battery life runs on two screens at once will certainly decrease. Although the Galaxy Fold screen will be equipped with each battery. The effect is the swollen thick screen. Medium Huawei Mate X can charge 85% in 30 minutes. Of course it is still a barrier if you have to continue to plug-in for battery power in intensive use. Being on the ZTE Axon M, the battery is only 3,800 mAh powerful.
Huawei Mate X itself will be equipped with 3 cameras. While on Galaxy Fold, there will be 6 more cameras. Unfortunately, the ZTE Axon M only has one 20 MP rear camera. Folding screen phones don't seem to focus much on developing cameras. Looks like folding screen innovation is still a mainstay of smartphone vendor marketing. Maybe vendors like Xiaomi and LG will provide other superior features.
So, if you are a smartphone enthusiast. Maybe folding screen phones can be the new center of attention for your office / work colleagues. But for those who are familiar with a single screen phone. It seems like there are still other better and more sophisticated phones that are new and will be released.
Alibaba might be better known as an e-commerce giant from China. But secretly, this company made by Jack Ma designed a folding screen phone and registered his patent. Reporting from Gizmochina, Friday (01/31/2020) Alibaba registered a patent for this folding screen phone to the World Intellectual Property Organization (WIPO). This patent was later accepted on January 21, 2020.
This patent was first seen by Let's Go Digital. The design of folding screen phones registered by Alibaba is unique and different compared to other folding screen phones that have launched on the market. This folding screen cellphone carries a clamshell design. But, unlike the design of the Samsung Galaxy Z Flip or Motorola Razr, this clamshell phone can be folded twice.
In an open state, this folding screen phone has the shape of an ordinary cell phone. But the bottom can be folded into the middle, and the top can also be folded so that it closes perfectly. In addition, at the back of the top of the phone there is also a secondary screen that is about one third the length of the phone. So when the cell phone is closed, the user can still check the clock and notification quickly.
On the side of the phone there are power and volume buttons. The design in this patent does not show where the back camera and front camera are located. The registration of patent folding screen phones by Alibaba is certainly a bit of a surprise. The reason they never developed their own cellphones, so it is unknown what they will do with this patent. But, in 2012, Alibaba got into the cellphone business with Haier. Alibaba also briefly launched an operating system called Aliyun to challenge Android, but the project was unsuccessful.