Smartphones can be another alternative to support user activities, such as taking notes. Users no longer have to use books. Interestingly, certain smartphones are already equipped with notes application. But users can also download the notes application to third parties.
This time I will give some recommendations for the best notes application in 2020, the following reviews for you.
1. Apple Notes
Apple Notes are available on several Apple, iPhone, iPad and Mac devices. This application comes with several good features and synchronizes across devices. You can take notes, make checklists, add annotations, photos and tables with icons at the bottom of the screen. You can also ask Siri to write a note, or search for your note. Users can also create categorization folders with Apple Note. The application comes with various folders and subfolders that you can use to organize your notes. No more need to copy and paste your to-do list into e-mails, because your notes are synchronized on all your Apple devices.
2. Google Keep
The Google Keep application is available on iOS, Android and can be opened through your web browser. With this application you can choose from a variety of colors to help organize your notes more easily and if you use Gmail or Google Drive, the sidebar will display a Google Keep icon that you can use to embed notes into certain emails or folders. Add the Google Keep Chrome extension, and you can also save links, videos and photos. It also functions as a reminder application, which adds a date or time to a note, and it will sync to your Google Calendar. Unfortunately, there is no folder feature to help organize your notes, but you can add labels to notes to keep them organized.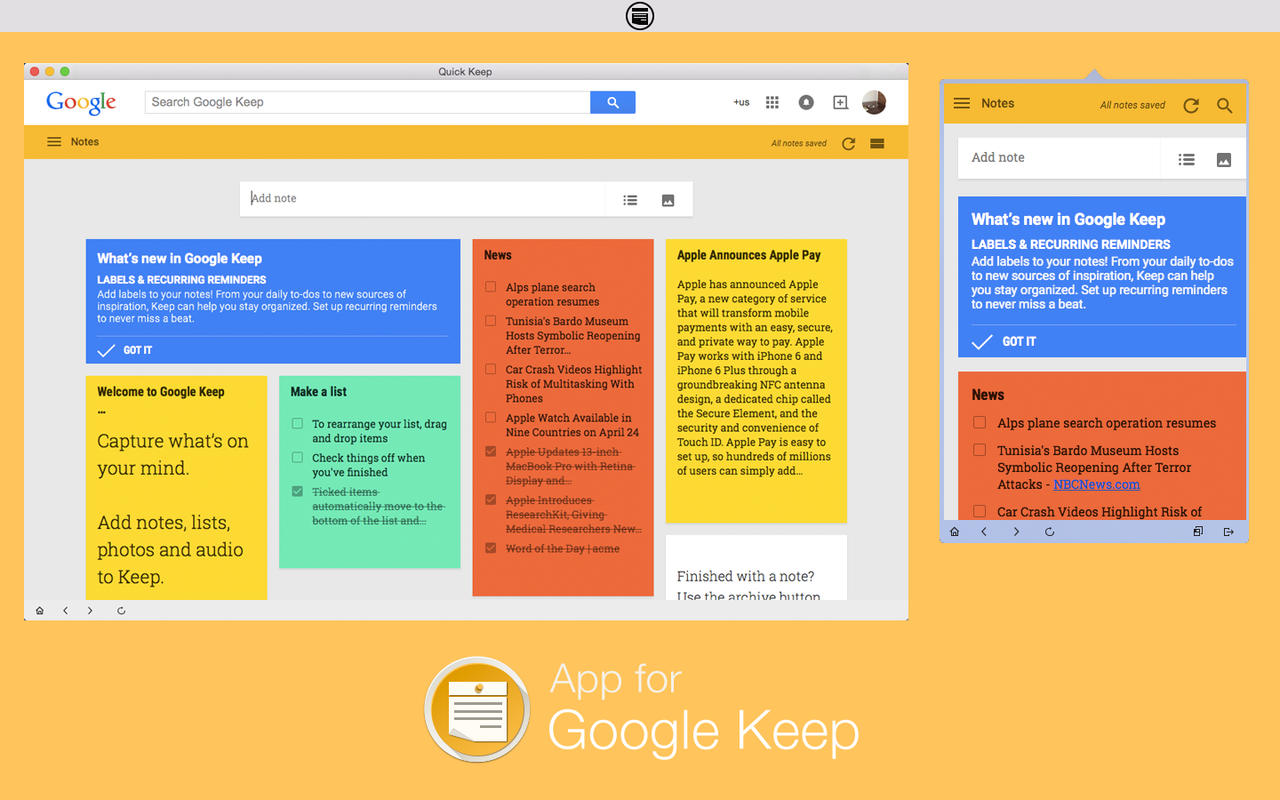 3. Evernote
If you like notebooks but can't track how much you have, Evernote might be the right note-taking app for you. Unlike some of the more basic options, Evernote allows you to organize notes into notebooks, mark, group, and search through notes. The free version has a template that you can use and supports various formats of text notes, audio, video, photos, sketches, web page clippings. If you have a Business or Premium account, you can share the note with people who don't have Evernote, and digitize your notes from scanned documents.
4. Simplenote
Simplenote is ideal if all you want to do is take notes. This is a desktop application, not an extension and is compatible with iOS, Android, Windows and Linux. The application is also free to use. Simplenote has a basic interface, and you can take unlimited notes, even though you can't upload other types of files, so if you need visuals or videos, this application might not be the right choice for you.